Quick Fixes for Tired Looking Eyes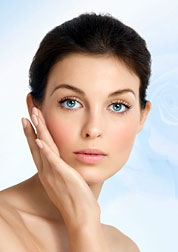 Ever wake up in the morning take a good look at yourself and think, "Oh my god I look tired and old." No matter what your age is lack of sleep can leave you looking 10 years older. You notice dark circles under your eyes, puffy bags, or blood shot eyes. It's a definite blow to start off your day. Not to mention all the annoying comments you'll receive at work; like "Wow what happened to you." Yeah, that one is my fav.
Below are quick fixes to ward off tired looking eyes but not your annoying coworkers...sorry. Try any one these tips before you head off to work and start your day like a beauty queen.
1. White eyeliner
I heard this makeup tip while watching Maria Menunous on Entertainment Tonight. During an interview she revealed that when she looked tired on the set, her makeup artist would apply white eyeliner on her lower lid. This worked to open and brighten her eyes. This tip sounded like a great idea and the very next day I gave it a shot. Lo and behold, Maria was right. This is an easy instant makeup trick for tired eyes. It's cheap and easy. Try it out.
2. Undereye Concealer
Apply a concealer just a shade or two lighter than the rest of your face. I recommend speaking to a makeup consultant at a department store for help. Choosing the right concealer is important in covering up dark under eye circles. A shade too light can make you look like you have eye bags, while a dark shade will only enhance under eye circles.
After you picked the right shade of concealer apply the concealer with your ring finger. Your ring finger has the smoothest skin out of all your other fingertips; this helps to set the concealer. Rough skin on other fingertips will only work to rub off the concealer. Continue to apply a powder mineral foundation. My favorite are from Bare Minerals. This will give you an even skin tone. Gently tap the powder under your eyes to give you a warmer and natural feel. You don't want the undereye concealer to stand out.
If you really want heart throb eyes, apply a small amount of powder shimmer bronzer underneath your eyes as well. This give tired eyes a brighter look.
3. Preparation H
While concealers work to reduce dark under eye circles, it's often hard to fix puffy eye bags. An old but well known treatment for puffy eyes is Preparation H. Yes it's butt medication for hemorrhoids but it works. I'm a model and my makeup artist uses on me for long photo shoots. It helps to tighten skin and when applied under the eyes, it effectively reduces swollen puffy eyes. Give it a try.
4. Cold Spoon
Another great tip to reduce puffy eyes is a cold spoon. Simply take a spoon from your kitchen and run it under cold water. Once you feel the metal is cold place the spoon on the puffy area for at least 60 seconds. Voila! Puffiness gone. An even better idea is to have a spoon already stored in your refrigerator or freezer for emergency puffy eye fixes. Ahh, the wonders of home remedies!
5. RevitaLume
The best way to fight tired looking eyes is by preventing them. An amazing eye cream for dark circles is RevitaLume. I apply this cream each night and wake up looking fresh and radiant. The label says results are seen in a few days but I noticed results after the first day. Thanks to RevitaLume, my dark circles are practically gone; some days I don't even need to wear makeup. And that's cool!
Learn more about RevitaLume Under Eye Serum.