Restylane For Under Eye Circles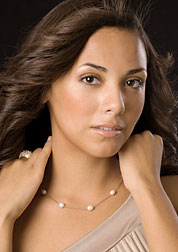 These days, many people are enhancing their faces with injected collagen and other facial fillers. Fillers work to plump up areas of the face and are primarily used to reduce wrinkles or engorge lips. However, a new filler called Restylane is being used to treat under eye circles.
Before you jump on the bandwagon here's what you should know.
What is Restylane?
Restylane is a cosmetic filler that was approved by the FDA in 2003 for the treatment of facial wrinkles. However, many doctors use Restylane for other treatments like lip enhancement or reducing dark circles under eyes. Restylane is made of a biodegradable hyaluronic acid. Hyaluronic acid is a naturally occurring substance present in all living organisms. It works to provide volume and fullness to an organism's epidermis.
Restylane is produced as a clear gel substance that is injected directly beneath the surface of the skin.
How Restylane Works
Like most fillers Restylane works to plump the underlying tissue in skin. However, Restylane is different from other dermal fillers in the way it permeates the dermal tissue and naturally binds to water molecules. The modified water molecules help assist in achieving and maintaining a natural looking volume.
Because Restylane is made of biodegradable hyaluronic acid, over time, Restylane is gradually degraded by the body and dissolves without any residue or trace. Therefore results are not permanent and a patient must seek treatment every so often.
Restylane for Under Eye Circles
Many doctors are treating dark circles with Restylane. As you age, skin underneath the eye thins and loses elasticity. It begins to look transparent and blood vessels underneath the eye are more visible; giving the appearance of dark circles. Restylane works to plump the hollow area under the eye so skin looks full and younger looking. Is it recommended?
Although Restylane injections are used for dark circles, there are many risks and the companies that make the fillers do not recommend it.
Restylane Risks
As long as Restylane is being used for it's primary purpose which is treating facial wrinkles and folds the risks are minimal. Remember Restylane is FDA approved only as a solution to treat wrinkles. There has been little research on effectiveness or risks in other Restylane treatments such as using it for dark circles.
Potential side effects are redness, bruising, swelling, tenderness and moderate pain. Usually these effects wear off in days but in sensitive areas such as the eye bruising can take 6-8 weeks to resolve. Also there has been cases where women report uneven healing in eyes; meaning one eye regains normal skin coloration while the other has an even darker discoloration.
Restylane for under eye circles requires great technique. Possible risks are doctors injecting Restylane too close to the skin's surface; this causes a dark discoloration which can last as long as 6 months or permanently.
Is it Worth It?
I don't think so. There is little research in Restylane for dark under eye circles both in its effectiveness and its risks. Also the treatment does not offer permanent results which means you'll be spending major bucks to maintain results. This can run you a fortune since each injection costs about $500.
Restylane Alternatives
I say try using a dark circle treatment which helps reduce the appearance of blood vessels underneath the eye. RevitaLume is a great dark circle treatment. It reduces serious dark circles and under eye bags by strengthening weak capillaries under the eyes. Strong capillaries means less breakage and bruising; the very thing that causes dark discoloration under the eyes; or what you know as dark circles.
RevitaLume is reasonable priced, offers a money back guarantee and works to permanently remove dark undereye circles. Learn more about RevitaLume.