Active ingredients in RevitaLume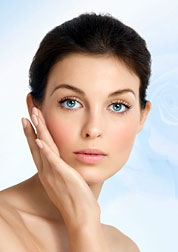 Proven ingredients to diminish dark circles
Modern products have come a long way from the early creams that contained nothing but Vitamin E and caffeine (a diuretic, caffeine was supposed to reduce puffiness by drawing moisture out of the tissues under the eyes). RevitaLume contains synthetic fragments of collagen molecules to super-charge the skin cells, vasoprotective ingredients that strengthen capillary walls and traditional botanicals.
The result? Synergistic action that works like magic on dark circles.
Hesperidin methyl chalcone
Hesperidin methyl chalcone is a flavinoid derived from citrus like oranges and lemons. Hesperidin helps to reduce capillary permeability - which means it helps prevent the tiny blood vessels in the skin around your eyes from leaking. It is this leakage which leads to the dark bruise-like discolorations we call dark circles.
Hesperidin is also an anti-inflammatory and helps to reduce puffiness and swelling.
In addition, hesperidin is thought to have the following activities: anti-allergenic, vasoprotective (protecting the circulatory system) and anti-carcinogenic.
Chrysin
Chrysin is, like hesperidin above, a plant-derived flavinoid. Its qualities as an anti-oxidant and anti-inflammatory make it an excellent addition to the all-star lineup of powerful ingredients in our product.
Chrysin has shown promise as a vasorelaxant, a property that may enhance the vasoprotective effects of hesperidin.
Cucumber extract
Long used as a home remedy for dark circles, cucumber contains both bleaching and soothing properties. These virtues are harnessed in their most concentrated form in cucumber extract. It doesn't spoil and is much easier to apply to the relevant areas than slices of cucumber.
Palmitoyl oligopeptide and Palmitoyl tetrapeptide-3
Two synthetic fragments of the collagen molecule, these peptides work to stimulate collagen production in the deep layers of the skin. Increased collagen production helps to repair flaws like fine lines and wrinkles on the surface of the skin for a younger, smoother look.
These peptides are found most often in high-end anti-wrinkle creams and serums. RevitaLume contains them because of their synergistic effect. Combined with the other active ingredients, these peptides help to make dark circles fade away and helps keep them from coming back.
Other powerful ingredients
RevitaLume contains the antioxidants Vitamin C and Vitamin E, along with retinyl palmitate. This retinoid is a form of Vitamin A that's easily metabolized by the skin and used to fuel the metabolism of the skin cells. Retinyl palmitate does not provoke the same sort of photosensitivity as other more well-known retinoids.
RevitaLume also contains aloe vera gel, long used in traditional medicine for its soothing and healing properties.
Try RevitaLume today and watch those dark circles start to fade away.
RevitaLume: complete ingredient list
Deionized Water, Aloe Vera Gel, Glycerine, Hesperidin Methyl Chalcone, Steareth-20, Dipeptide-2, Palmitoyl Tetrapeptide-3, N-Hydroxysuccinamide, Chrysin, Palmitoyl Oligopeptide, Retinyl Palmitate (Vitamin-A), Cucumber Extract, Sodium Hydroxide, Polysorbate-20, Carbomer, Propylene Glycol, Methyl Paraben, Propyl Paraben, Diazolidnyl Urea, Hydroxyethylcellulose, Potassium Sorbate, Tocopherol Acetate (Vitamin-E), Ascorbic Acid (Vitamin-C).