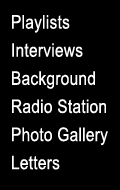 Background & Projects
For the past eight years I have been a radio disc jockey at KZSC, Santa Cruz under the DJ name, Victoria Star. I program Dark Circles, a weekly show focusing on new, classic and lesser-known acts in the gothic and industrial sub-genres. I adore radio. Over time I have realized what an outlet and asset public radio is to the community.
For distribution of airplay materials, promotional campaigns or record give aways, please send me an email at victoriastar@yahoo.com. Bands and record labels both — don't hesitate to contact me.
I have been fortunate enough to interview some incredible bands over the years, including Assemblage 23, Cranes, VNV Nation, Haujobb and many others. I have traveled to Canada and the UK to attend events and have guested at several clubs and venues. Many are listed below.
In 2001, I was asked to become a resident DJ at Santa Cruz's only weekly gothic/industrial/EBM club, THE BOX. My residency lasted until early 2003 when I decided to focus more on my radio career. While with The Box I served as both a DJ and the promotional contact for the club.
I am open to future radio interview suggestions and enjoy appearing at guest DJ gigs. I currently live in Santa Cruz, California.
Resume
Radio Positions
KZSC, Santa Cruz, 88.1 FM
Livewire 945, Norwich, UK
Clubs (Resident)
The Box (Santa Cruz, 2001-2003)
Clubs (Guest)
Dominion (Santa Cruz)
November's Coming Fire (Monterey)
Counterstrike (San Jose)
Special Events
Synthpop Goes The World (Toronto, Canada)
Bay Con (San Jose, CA)
ELectron SAlon (Santa Cruz)
Rio Theatre (Santa Cruz)